Resources
Assessing the Continuum of Care for Behavioral Health Services in California Data, Stakeholder Perspectives, and Implications
"The assessment will provide data and stakeholder perspectives for DHCS as it implements major behavioral health initiatives, responds to new federal funding opportunities, and prepares to submit a Section 1115 Medicaid demonstration waiver in 2022 to strengthen mental health services for people living with serious mental illness (SMI) and children and youth living with serious emotional disturbance (SED). Specifically, this assessment aims to do the following…" Read More.
Justice Equity Need Index
"The JENI (Justice Equity Need Index) is a geographic, quantitative tool that estimates where in Los Angeles County are the communities that bear the disproportionate burden of our outdated, broken criminal justice system. Working toward a vision of justice equity, the JENI identifies the areas in greatest need of public investments in community healing, health, and prevention to help reverse historical injustices. Informed by criminal justice literature and direct input from community-serving organizations the JENI compiles and measures community need through a set of nine indicators that each capture a factor associated with detention-first policies:…" Read More.
Opportunity Zones
Learn More.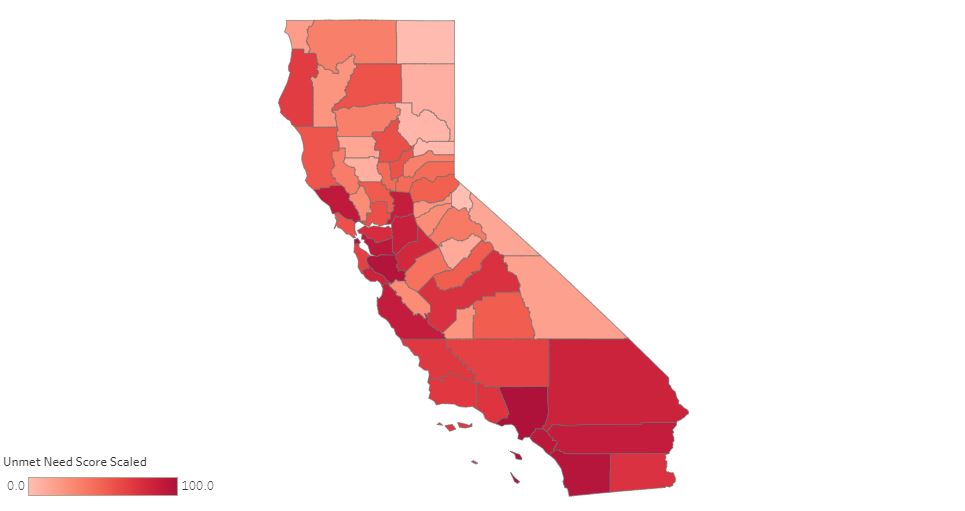 These maps visualize areas with high need for CCE Capital Expansion funding and gaps in care in the community. The maps incorporate many of the data points used to create the CCE Capital Expansion regional funding reserve methodology, as described in the RFA.