Crisis Care Mobile Units Program Grant
The California Department of Health Care Services (DHCS) Crisis Care Mobile Units (CCMU) program provides funding for California county, city, or tribal entity behavioral health authorities to implement new and enhanced CCMUs. The CCMU program integrates funds from two sources:
$150 million of state general funds that are part of the Behavioral Health Continuum Infrastructure Program (BHCIP). These funds are available for behavioral health authorities to develop infrastructure that supports mobile crisis units that are not available through other sources.
$55 million in DHCS funding from the Substance Abuse and Mental Health Services Administration (SAMHSA) through the Coronavirus Response and Relief Supplemental Appropriations Act (CRRSAA)
CCMU has already awarded more than $163 million to 49 behavioral health authorities. The awards are being used to create or enhance 245 mobile crisis response teams throughout California.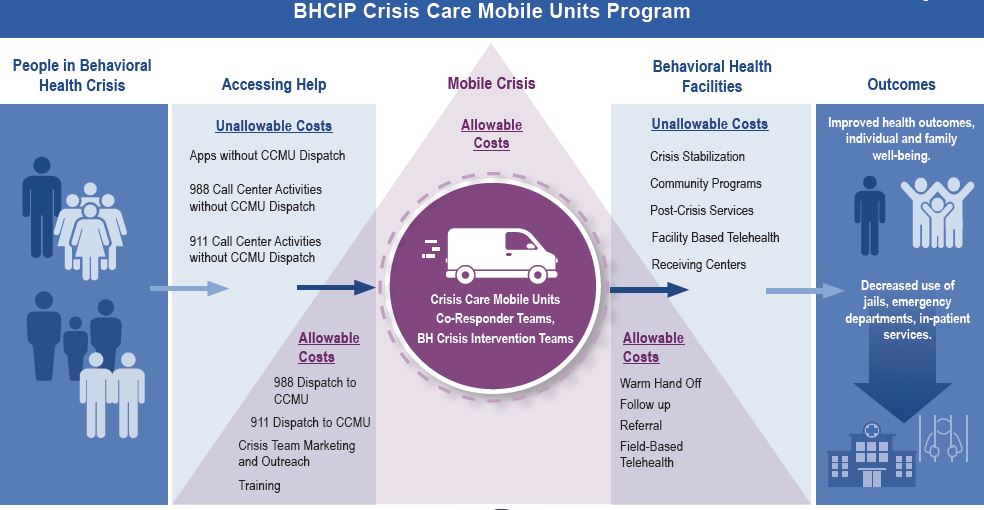 The above graphic illustrates how CCMU grants give communities the flexibility to supplement existing resources (shown as unallowable costs) paid for by other funding streams.
Grantee Portal
Resource page for CCMU grant awardees only.
Login to complete your Quarterly Report
Need tech support?
Having issues with your Quarterly Report? Need to request a website login?
A status update for Behavioral Health Continuum Infrastructure Program and Community Care Expansion funding was recently provided to the California State Legislature. You can read the update here.