Crisis Care Mobile Units Program Grant
The California Department of Health Care Services (DHCS) Crisis Care Mobile Units (CCMU) program provides funding for California county, city, or tribal entity behavioral health authorities to implement new and enhanced CCMUs. The CCMU program integrates funds from two sources:
$150 million of state general funds that are part of the Behavioral Health Continuum Infrastructure Program (BHCIP). These funds are available for behavioral health authorities to develop infrastructure that supports mobile crisis units that are not available through other sources.
$55 million in DHCS funding from the Substance Abuse and Mental Health Services Administration (SAMHSA) through the Coronavirus Response and Relief Supplemental Appropriations Act (CRRSAA)
New! California tribes and tribal entities (as defined in Section 1603 of Title 25 of the US Code) may apply for funds to purchase and maintain vehicles to provide mobile crisis and noncrisis behavioral health services through a simple application process.  Click HERE to learn more!
January 23, 2023 CCMU Tribal Informational Webinar
View Recording
View Slides
View the RFA for more information.
CCMU has already awarded more than $163 million to 49 behavioral health authorities. The awards are being used to create or enhance 245 mobile crisis response teams throughout California.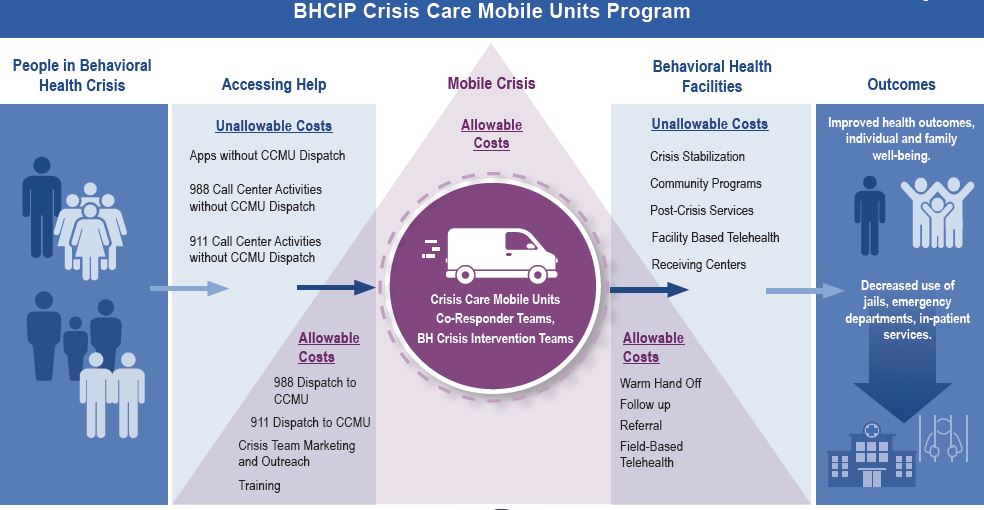 The above graphic illustrates how CCMU grants give communities the flexibility to supplement existing resources (shown as unallowable costs) paid for by other funding streams.
Grantee Portal
Resource page for CCMU grant awardees only. 
Login to complete your Quarterly Report
Need tech support?
Having issues with your Quarterly Report? Need to request a website login? 
CCMU will award up to $1 million to any Tribe or Tribal entity in California for the purpose of purchasing and maintaining vehicles to provide crisis and non-crisis behavioral health services. Applications must be submitted by February 28, 2023. Click HERE to access...